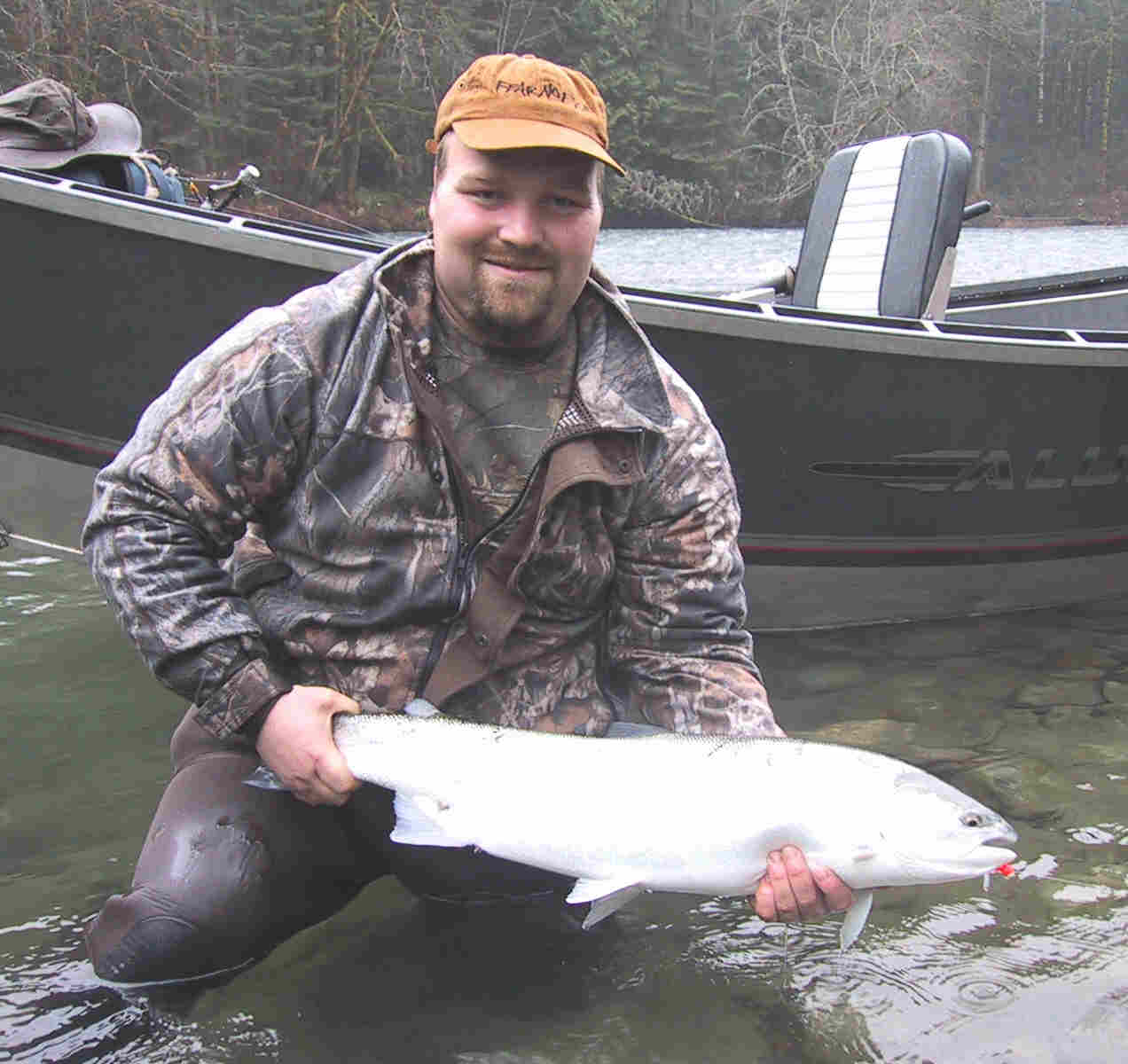 River Driftboating for Chrome Steelhead!


RECENT SITE UPDATES

Updates, Updates!
2012
Photography Adventures!!
Vancouver Island Black Bears & Eagles!!
www.wildearthilluminations.com www.davehutchison.ca Go to image galleries to see amazing Vancouver Island Black Bears!!

Check out our FISHING PHOTO ALBUM!!!
Air - Conditioned Turbo Crew Cab Trucks for your comfort and River Jet Boats for remote axis and excitment!

We Guide Clients 7 Days a Week!
Looking Forward to Sharing an Ultimate
eX-stream Experience with you!
Book Early to Secure Your Dates!
Some Dates are Still Available
for Our Awesome Fall Salmon Fishing!
NEW Saltwater Charter Action!
NEW Recipe from Chef John
October 24, 2005
Try the latest tasty treat
Halibut and Shrimp Cakes.
NEW Recipes contributed:
October 24, 2004
Thank you to Executive Chef Kevin Fonzo for his delectable Grilled Salmon Club with Cilantro Aioli,
and to Culinary Director John Ash, for his delicious
Salad of Ahi Tuna with Lavender and Pepper.
NEW Recipes contributed:
November 18, 2003
Thank you again Executive Chef Kevin Fonzo for this delicious sandwich combination Grouper Sandwich with Lemon Rémoulade,


"Please keep sending those recipes to us! We love them and enjoy hearing from you!"

Fishing Tips!
Watch for changes!
Look here for hints,

Fishing Tips and advice on Saltwater Fishing.

Backlash !
Watch for changes!
Backlash, the page of fishing humour and wisdom, is bigger and better, with loads of great content and more coming!
The eX-stream Files  


...like the Thrill of your line being tightened by a Powerful Salmon or Steelhead and watching your Reel Scream as your fish makes Endless Exhausting Runs and Jumps!!!!

Book Now for PRIME TIMES!

Cast Thru Our Fishing
Pictures in PHOTOS
(double-click on images)

FISHING INFO

Victoria, Vancouver Island, British Columbia, Canada

Vancouver Island's Original and Finest Full-Service, Year-round, Professional Fresh and Saltwater Guiding Company. We offer our Worldwide Clients Several Unique and Exciting Ways to Experience Phenomenal Fishing Opportunities and Explore it's Sensational Scenery and Outdoors.

If You Want to Succeed in Fishing Unfamiliar Water, You Should Ask Someone Who Goes There Everyday!

Govt. Licenced for 15 Rivers & 12 Lakes and the Pacific Ocean for your Fishing Pleasure!
Guide owned with Full Time Fishing Guides.

Our Fishing Guides have 30 to 40 years Fishing Experience. Fishing is our Passion!!!

As Seen on many Worldwide Aired TV Fishing and Outdoor Shows. Profiled Locally & Internationally in many Print and Web Publications.

Vancouver Island boasts British Columbia's highest concentration of Steelhead Rivers, and has Year-Round Trout Fishing for Browns, Rainbows, and Cutthroats in our Rivers and Lakes. Massive Fall Salmon runs of 5 Pacific Salmon species will fill our rivers and make your arms Ache!

Incredible Saltwater Angling for 5 species of Salmon with Trophy Chinook (Kings) and Coho (Silvers) along with Monster Halibut and Ling Cod are abundant Year Round!

FISHING REPORT - November 2012
Exciting River and Lake Fishing Conditions!! Rivers still full of Coho Silver Salmon and Winter Steelhead are starting to push in!! Also lots of Brown, Rainbow and Cutthroat trout!! Our Lakes have Small and Largemouth bass here in trophy sizes and plentiful stocked Trout!!!

Saltwater Charter Action has Winter Chinook Salmon!!!!
Halibut fishing is Great with favorable tides, and varies bottom fish keep a bend in your rods too. Drop those Crab and Prawn traps before setting out and make it a win-win day!

We Teach and will gladly answer any Questions you have.
The eX-stream Team

Big Dreams, Big Fish, Big Smiles
-Scott
( fishing@ex-stream.com )